As you may have realised by this point if you have read any of my other posts I'm a little christmas-mad. I wasnt always this way and I'm not entirely sure what happened but I think it was something to do with moving from the warm southern hemisphere (where christmas day consists of cold meat, salad and a dunk in the pool to maintain a temperature suitable for the continuation of life), to the cold climate of Scotland. I remember the first time I walked past a holly bush in Edinburgh that actually had holly berries on it and did a little jump-squeak-dance on the spot of excitement which must have really scared my fellow pedestrians. You don't want to see me when it snows.
My favourite kind of post to read at this time of year is other blogger's last minute ideas for christmas dishes, drinks and foodie presents just in case I've missed out on something I wont be able to continue life without eating/drinking/owning. And I'm equally as eager to share my own santa list and some recipes so that I am returning the favour to those with a similar compulsion.
Food
Here's a selection  recipes from other blogs and my own with a Christmassy theme which I would recommend or have me interested.
Creamy Pea Soup – coconut milk makes this deliciously creamy and sweet and its the perfect cheerful green….   Spaghetti with Marmite (from Nigella) – when you've had enough of turkey….    Chocolate & Thyme Mousse – if you're sick of Christmas pud….    Poached Pears (from Kosher Camembert) – festive and just stunning….   Chilli Glazed Gammon – warm and spicy….   Chestnut Chocolate Pots (from Nigella) – winter in a cup….   Parmesan, Rosemary and Pancetta Grissini – perfect for parties and gifts….   Gingerbread Latte Cupcakes – if Christmas had a smell….
♥
Presents
Stomach sorted, presents next. Some ideas from my own Christmas list and other brilliant foodie gift ideas I've seen this year.
The basics – Stoneware Mixing Jug. 
Everyone needs a sturdy mixing bowl . I have a big metal one which is great because its light and good for whipping meringue but sometimes you need a heavy one that wont slide around the counter top while you are mixing. This one has the benefit of a pouring lip and Le Creuset good looks.
Cook Books – McGee on Food & Cooking.
I love cookbooks that either have a narrative with the recipes or teach you about why you have to do things and the science behind culinary techniques so this book is on my wish list this year.
Its not Christmas to me without a good book to read on Christmas day after I've eaten so much I've lost the power of movement and speech and have to lie down (I know, aren't I rock and roll).
Subscriptions – Kopi Gourmet Coffee.
My Delicious Magazine subscription is still one of my favourite presents but this is a subscription with a twist. If you know anyone who loves good coffee and drinks enough of it to receive a new bag every month then I think this is very clever.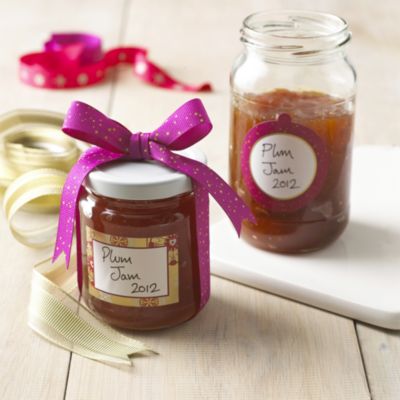 Crafty – Jam making stuff.
I want to start making my own preserves and although I've started by making my own fruit mince without the aid of any special equipment its harder to make proper jams and other preserves without decent jars and strainers etc.
I have my eye on these jars  at Lakeland as well as a pile of other preserving related paraphenalia and books on amazon.co.uk
Gadgets – Ice Cream Maker
Every cook loves gadgets. My cupboards are already crammed full but I am dying to make my own ice cream. My head is brimming with recipe ideas but I've tried making it without an ice cream machine and it just doesnt come out the same.
I dont have space in my freezer or patience for the kind with a bowl you have to freeze so this one is a well priced version of the proper electric kind.
♥
Christmas Cooking Challenge
And last but not least, don't forget to join in my Mince Pie Challenge if you are making your own this year. The idea is to reinvent the standard formula with a twist of any kind but if you just want to share your traditional home-made pies you can still send me a link or photo and at the end of the month I'll post the entries, pick a winner and send the best one a little surprise foodie christmas gift.  Just leave me a comment to let me know you are entering by the end of the Month.
I've started by making Nigella's Rhubarb and Vanilla Mince which turned out to be delicious and I'm using that to try out different mince pie themed pastries and biscuits. Here's the recipe if you want an alternative to the ordinary suet and citrus peel kind. The vanilla makes it really rich and velvety.
Rhubarb and Vanilla Fruit Mince
Adapted from Nigella Lawson's Feast.
1kg rhubarb, trimmed and cut into 5mm slices
300g soft brown sugar
2 vanilla pods
2 tsp ground mixed spice
200g raisins
250g sultanas
225g currants
2 tbsp cherry brand
Put the sliced rhubarb with the sugar into a large pan. Cut the vanilla pod in halves length ways and scrape out the seeds, then cut each half into pieces, adding seeds and pod slices to the pan. Add the mixed spice and cook for about 5 mins.
Add the dried fruits and simmer for about 30 mins. Stir in the brandy and take off the heat. When it's cool enough to handle, bottle in jars.
Makes 1.25 litres.
♥